Let us Take Care of Your Next Nicaragua Vacation
We book all the best accommodations at Playa Colorados from beach houses on the sand to houses just off the beach to condos and casitas all located in the very secure and safe gated communities of Hacienda Iguana and Rancho Santana.
How it Works
Find the perfect rental from our list of properties
Book the property with the desired desired dates
We'll contact you to confirm and review any additional amenities like:

Transportation to and from the airport
Daily meals from our private chef
Surf guides by boat and/or car
Photography and video for all of your sessions
Coordinating fishing, golfing, horseback riding, and any other fun activities
If you have any questions along the way, reach out to us we'll guide you through the entire process. From finding the perfect property, traveling to and from the airport, to coordinating the different adventures and activities while you're here, we'll guide you through the entire process.
Our host and resident, Mateo, lives within the Hacienda Iguana gates and will be available 24/7 to help with anything you need to ensure a safe and memorable vacation.
About Mateo
Mateo was born and raised in Encinitas, CA and grew up with a passion for surfing, traveling, and speaking Spanish. This very passion continues today with the best in class vacation property rentals and surf tours in Nicaragua.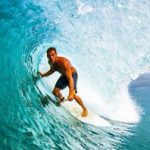 Surfing
Surf Guides
Local surf guides with a high level of surfing and knowledge of the area are available to guide you to the best surf spots. Additionally, Mateo will provide insight and surfing advice when planning your trip so that you'll have the best opportunity when surfing Nicaragua's world-class waves.
Boat Trips
We facilitate transportation to Nicaragua's world-class waves. Depending on your preference and desired surfing preference, boat trips and car rides will compliment your perfect adventure. Mateo will plan out all of the details for you.
Photography & Video
Create memorable experience that last a lifetime with our photography and video packages. We have premium equipment, shooting with GH5 Lumix Panasonic DSL camera for filming and Canon 5D DSL camera for photography.
Watch your videos after every session, take them home with you, share them on social media with all of your friends. We can provide video, photography, and editing content for any of your needs.
Transportation
We offer complete transfers to and from the airport in our new vehicles equipped with AC and safe drivers. If you need vehicles at any time during your stay, we can facilitate them as well.
Meals
We have comprehensive meals from our private chefs customized for your stay. We also accommodate any food allergies and dietary concerns. Our packages also include all of the groceries and cleanup after every meal.
Activities
Nicaragua is rich with adventure and activities. From golfing, fishing, horseback riding, yoga to exploring the volcanoes, hot springs, local towns and cuisine, there are countless adventures we can custom tailor to compliment your vacation.